Falling for Old Saigon in Ho Chi Minh City
An essay on expatriate nostalgia in a rapidly developing metropolis.
"Contemporary nostalgia is less about the past and more about the vanishing present…" ~ Svetlana Boym, The Future of Nostalgia.
IN HO CHI MINH CITY, about five years ago, the city's most central bia hoi (fresh beer) joint on Thi Sach bit the dust. On this drinking institution's final evening, a bunch of long-term expatriates – viewing this closure as regrettable, poignant, even symbolic – all took a break from sipping on craft brews and cocktails to toast the end of an era alongside the garrulous, and gentlemanly, bowsies that frequented the place.
Two or three years later, another downtown drinking den in District 1, Hien&Bob's, shut up shop for good. If this dusty, quasi 'Tiki Bar' ever had a heyday, then I never witnessed it. From what I experienced, most evenings three customers would have been a party. Four a crowd. Hien, well-known for her icy burns and frosty welcomes, didn't exactly do her business any favours (and I don't think the toasted sandwiches reeled anyone in). But in its own way, Hien&Bob's had a place in people's hearts as a throwback venue in a rapidly modernising town. Even people who never went there didn't want it to close. Like the bia hoi on Thi Sach, it was a comforting fixture. A piece of the urban tapestry we often passed and didn't want to be peeled away.
In a similar scene to the bia hoi's final curtain, a horde of expat revellers gathered to surprise Hien (Bob having shuffled off this mortal coil many moons ago) on her last night behind the bar before the venue became just another hazy memory of how things used to be. As far as I know, nobody had an accordion, and nobody sang this town's favourite Mary Hopkins' song (but I wish they had).
"Once upon a time, there was a tavern
Where we used to raise a glass or two…"
WHEN THESE TWO WELL-PICKLED watering holes disappeared, there were two strands of nostalgia intertwining. The first was about expats harking back to the good old days – their good old days i.e. that time when they were younger, carefree, and rarely regretted drinking for six hours, for no particular reason, on a Tuesday night. It was a time when Saigon was much less 'hipsterized'. No IPAs with flowery adjuncts. No pretentious smoke-infused potations. No specialty coffee joints with fully washed Nicaraguan beans. The street-side beer joints, dingy bars and old school cafes were all we needed to get our fix and make an emotional connection with the city that buzzed and crackled all around us.
The second strand of nostalgia is perhaps more complex, but here's an attempt to simplify it: many of us like the pure postcard-aesthetics of 'old Saigon'; we don't care for the digital renderings of '21st century Ho Chi Minh City.' The former is romantic, storied and characterful. It syncs with our idealised notions of what Saigon is and, wherever possible, should continue to be. The latter is gaudy, glitzy and generic. It's the 'Tomrrowland' that we don't want to wake up in. Because, as it grows, it reduces 'old Saigon' to rubble (and threatens the physical spaces where we forged so many of our own happy memories).
It's normal to be sentimental about what we like to think were simpler times – and I mean both our personal histories and the social history of a place. One evening at a bar in my beloved Phuong 19, an Asian expat showed me and some friends a grainy picture of his grandfather as a dapper young man on the streets of Saïgon in the 1930s with vintage cars, the Opera House and the Hotel Continental, all frozen in time, forming a backdrop. Everyone gushed. "Those really were the days…" someone said, seeing everything literally and figuratively in black and white, perhaps imagining only the pleasures of a congestion-free colonial town, like, sipping vermouth cassis on a terrace, or trading glances with well-heeled beauties while ambling down rue Catinat, and obviously not the day-to-day realities for, say, a servant, a malnourished Rickshaw rider, a peasant labourer, a prostitute, an incarcerated revolutionary, a mother of five whose husband is fated to die fighting his own brethren, or someone stricken with dysentery, syphilis, typhoid, opiomania…
Whatever quaint and idyllic atmosphere that person was picturing, they rejoined: "Man, it must have been beautiful." Because, nostalgia colours everything rosily and shears the past of complexity, whether it's the past we never experienced, or how we view our own 'good old days'. In a giant work of progress like Ho Chi Minh City where the dust never settles, it often feels like the 'past' is idealised – in numerous spheres from art to advertising. Is that because of the speed 'the present' is vanishing? When an establishment we once frequented closes in this town, certainly many long-term expatriates are prone to seeing its loss as symbolic. But how we view 'change' in the city is always shaped by our own self-centred narratives, and people often overlook how they have changed along the way, too. Can you be genuine when lamenting the closure of a business in District 1 if you now spend your days and nights in a suburban expat bubble like Thao Dien?
One of the last times I sat in the Thi Sach bia hoi, I found the place squalid and the small number of geriatric regulars weren't 'garrulous characters' in my eyes but unabashed alcoholics. It was a pretty grim scene. And when I went to Hien&Bob's, not long before its final curtain, a friend and I weren't into the downbeat vibe (or being the only two customers), so we went for whisky sours in a trendy (read: packed-with-punters) cocktail bar around the corner. If we're being realistic both businesses' time had passed, and every city quickly sheds the enterprises it doesn't need. 
"The past is a foreign country: they do things differently there." ~ L.P. Hartley
SO A BUSINESS WE ONCE FREQUENTED CLOSES, and even if we accept that as an inevitability, we can still shed a tear, and raise a glass in tribute, but in this city there's usually a secondary concern – what about the building? Many seem to view a demolition job on a five-to-seven-decades-old building (a mouldering, crumbling, rundown, zero-amenities building which they don't live in) as tragic. Some react with the sort of spite and invective that's sadly typical of social media. On a FB group for heritage watchers, 'cretins', referring to whomever they believe is responsible for the 'wanton destruction', is a word I have seen more than once. Once I read a comment, referring to the flattening of a dilapidated French colonial period building, that read: 'no better than ISIS'.
Now while we could argue (pointlessly, as we're all bystanders) over what buildings should stay standing and what can make way for something new, let's at least agree that it's easy to fall for 'Old Saigon's' ageing physical features. But perhaps what often gives our nostalgia an extra edge is that we assume we won't like what comes next. That's why we share conspiratorial insight as if we had our ear to the ground and knew what's happening (as if). Shamefully, I once kickstarted a rumour via Twitter that all the entrepreneurial tenants in 26 Ly Tu Trong (a.ka. the 'Catinat Building') were getting the heave-ho, therefore implying the much-loved building would soon be rubble. I was delighted with my social media scoop but it turned out the one small business owner, who'd tipped me off, had either failed to call someone's bluff (like all the other tenants did) or was duped into vacating a coveted spot. The building remains standing **at the time of writing**.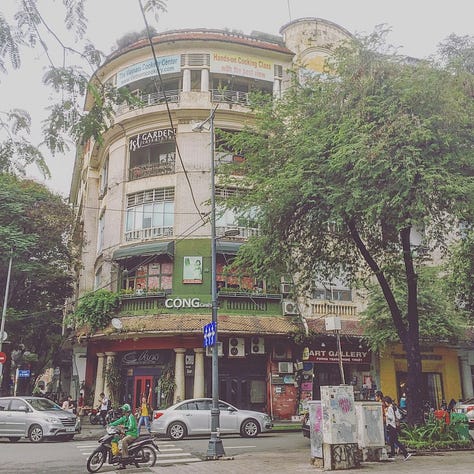 When Hien&Bob's was closing its doors, many like me would have assumed that the whole building – an old apartment block at 43 Hai Ba Trung – would soon be levelled (the bia hoi building at 4 Thi Sach has been razed). In its place, there'd soon be shimmering high-rise, all steel and glass, and zero character. That will come to pass someday. But **at the time of writing** the shabby apartment block (admired for its rounded corner) that housed Hien & Bob's is still there (the bar is now a luxury shop selling Cuban Cigars and top-of-the-range liquors, presumably a business that attracts many of the fat cats who are driving development all around).
A number of the apartments upstairs look to be uninhabited, so I wouldn't bet on the building lasting too much longer. Like many aged structures in Saigon, it has the ability to look rather charming on a sunny day, or when a seductive twilight snuggles around it. But on a drab, late-rainy-season afternoon, when I pointed it out to a pair of visitors, adding that it could soon be a thing of the past, one responded flatly: "Well, no great loss." The other visitor suggested, diplomatically, that in Tokyo it would have been demolished decades ago but in Helsinki, they'd insist on keeping it.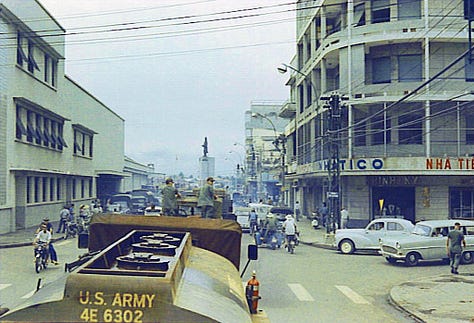 Standing in Saigon, I struggled to articulate the insider's perspective. It was only later that I realised I should have pointed to the vacant lot opposite – concealed with (not so) temporary fencing – and said: 'See, the problem is, when a building comes down, sometimes nothing happens… for years." The site on the other side of the road used to be the Sabeco factory. It was mostly razed in 2017. A skyscraper project called Sabeco Pearl was supposed to be developed but a financial scandal has left the site in limbo. This sort of real estate inertia is not unusual. All around the downtown area there are other delayed projects, many of which have turned into 'temporary' parking lots.
---
IN MY TIME IN HO CHI MINH CITY, 10 years and counting, I have also seen a rising tide of nostalgia for 1960s' Saigon (the music, the fashion, the vintage wheels, the less congested streets), not just among foreigners who most definitely weren't around at the time, but also among Vietnamese who were born long after 1975. But what would any one of us make of the place, if we were whisked back there through a spiralling time machine? When the writer Mary McCarthy arrived in 1967, she described it as an "American city, a very shoddy West Coast one". Frank Snepp, the author of Decent Interval, went further a few years later, when confronted by a "grimy imitation of Dodge City" where cashed-up, horny GIs had the run of the place, eating burgers made of water buffalo meat at girly bars. "Locals had either withdrawn or were cooking up schemes to profit," he wrote. "Shabbiness clung to the city like a scab. It reeked of urine."
Snepp also came across a returning US army vet, in 1971, reminiscing of the long-gone days of 1965, when there were "more tree-lined boulevards, the best Chinese restaurants in Southeast Asia, and equally superior brothels". It's not that the brothels had gone, it's just that his old favourites had closed.
Another emigre, the illustrator Dick Adair, also lamented the growth of Saigon back in 1971 – in the time-honoured tradition of jaded expats heading for the exit, Mr. Adair couldn't help firing off a parting shot, criticising the city for changing without his permission, and with no regard for his lifestyle preferences:
Fast forward to 1979, a fellow by the name of Gabriel García Márquez arrived in Saigon to find "an enormous city, lively and dangerous, with almost four million inhabitants, who go about the streets at all hours because they have nothing else to do". The "Yankee occupation", wrote Uncle Gabo for Rolling Stone, had created an artificial paradise, and the cost of this delirium was stupefying: "360,000 people mutilated, a million widows, 500,000 prostitutes, 500,000 drug addicts, a million tuberculars and more than a million soldiers of the old regime, impossible to completely rehabilitate into a new society."
When I was working on an earlier version of this essay for Mekong Review, reading some of these first-hand accounts helped me better understand why a generation of municipal leaders and Vietnamese developers would aspire for Singaporean levels of order (cleanliness, modernity, etc) or a skyline to rival Shanghai's… it's because they lived through the bad old days. Many of us may long for the past to endure (or to even be retrieved). But they're trying to leave it all behind.
If you channel your inner-Thomas Friedman and chat to a taxi driver, or perhaps a street cleaner, it's very possible that they don't look up and see 'shimmering modernities made of concrete and glass', as some expats might cynically describe high-rise developments and skyscrapers like Landmark 81. They see something that's excitingly modern and that raises the image of the municipality in the eyes of the world, and, as the old adage goes, in matters of taste, there can be no disputes.
It's not that they'd all be cheerleaders for development (or how it occurs). In the introduction to Luxury and Rubble: Civility and Dispossession in the New Saigon, Yale anthropologist Erik Harms writes: "City residents simultaneously marvel at and curse urban development, and in the process they often share the planners' desire to bring order to chaos by building utopian projects, even as they often disagree with how the projects are implemented and even as they fight for greater compensation when they are forced to give up land for development projects."
Luxury Rubble underscores the human costs of master-planned, profit-driven urban development while also reminding readers of the scale and complexity of the expansion of the city, which needs to better accommodate over 9 million people (and possibly much more than that in reality). 'Old Saigon' may monopolise our memories – real or imagined – but it is increasingly a kernel set within a sprawling, monstrous 21st century city called Ho Chi Minh City.
In his research Harms came across a 1973-article by Gus Wright, then a columnist for the San Francisco Examiner, who wrote: "On my desk is a beautiful picture of how Saigon might look someday. I keep my fingers crossed that it will happen." He was looking at a proposed master plan for redeveloping Thu Thiem, a "2,500-acre godsend cradled in a loop of the Saigon River ... that begs to become the centrepiece of the Saigon of tomorrow". Incidentally, the French also had notions of developing Thu Thiem back in the 1940s.
Hearing that made me long for an imagined alternate reality, one in which wars, divisions and impoverishment hadn't thwarted the development of Thu Thiem close to 50 years ago, sparing District 1 from today's overcrowding, chronic congestion and structural battles. Today, the scrublands of Thu Thiem are now awash with new developments and major construction sites. It's finally on its way, and maybe in 20 years we'll be sharing 'now and then' pictures of the skyline, like these images of Shanghai in 1990 and 2010:
---
WHEN I MOVED from Hanoi to Ho Chi Minh City in 2012, the country was in the midst of a financial crisis, triggered by the collapse of a property bubble and the arrest of high-level bank executives who had exposed a malfunctioning financial sector, widespread macroeconomic vulnerability and colossal levels of debt. I was following a partner who – in a sign of the times – had been reassigned from a financial institution's investment wing to a task-force dealing with toxic debt. As a layabout man of letters in search of the easy life, none of this bothered me too much. With its wider roads, my new place of residence felt a little roomier compared to the capital. The traffic less feral. The weather more bearable. In the evenings, I often sat at quan nhau (local bar and grill joints) with the few people I knew, drinking our way through a crate of bottled beer and snacking on classic southern dishes. At that time, a number of unfinished high-rises loomed over the Saigon River and central thoroughfares, symbolising the real estate development inertia that had fallen on the city. This high-rise below was one of the more conspicuous ones (it was recently completed superficially and fitted out with a whole lotta LED).
The economy eventually got back into gear and developers started to dream big again, which meant certain heritage buildings would have to make way. One of the more controversial demolitions was the Tax Centre on the corner of Nguyen Hue - Le Loi boulevards. If you see a picture of the building in its pomp, when it was called Les Grands Magasins Charner, and everything was sepia-toned, serene and seductive, you might also be aghast…
However, if you were to see the building in its last days, you might also think, 'Well, um, no great loss…'
Now, inside there was a staircase worth saving. This staircase, which had been created using the Moroccan mosaic art of zellij, was eventually removed, not destroyed, and according to news reports it is being stored, awaiting some form of resurrection, perhaps set within whatever one day sits on the same site. Judging by social media, some viewed the demolition as scandalous, and many were sceptical the staircase would be seen again. But it's worth stressing that the Tax Centre had negligible function/ purpose. Modern malls elsewhere had usurped all of the mini-fashion outlets upstairs. Perhaps the jewellers downstairs ticked over but they never seemed too busy whenever I stuck my head in (to get a blast of aircon, not to buy anything). It was also nothing much to look at. It seemed delusional to believe the city would happily let an outdated and unpopular retail premises sit on prime real estate. So, what's there today? Well, unfortunately, nothing much. A 40-story hotel and commercial tower project broke ground. But it has stalled due to another financial scandal. For now there's only a blue fence running around the perimeter.
Another controversial redevelopment involving the demolition of heritage was Ba Son Shipyard, once the 'Arsenal de Saigon'. Everyone I knew seemed to have a strong opinion on what could be done on this site to retain the heritage so it could serve a new purpose (say, a large arts and culture zone). Not that anyone I knew had actually set foot on the site. We'd driven by its walls on a regular basis but as it was navy land, no one could stroll in. The planned demolition triggered a curious form of yearning for a future that we wanted but would never see (there's probably a Turkish or Portuguese word for that), a sort of 'future nostalgia'. The site is now being developed as a luxury marina. When a showroom opened, property was selling at $15,000 per sqm, which means a 100sqm apartment would set you back US$1.5 million. I don't suppose I'll be down there in my yacht shoes too often, whenever it opens, but, well, I don't think they were thinking of little ol' me when they designed it. And why would they?
"Old Paris is no more, the form of a city changes more quickly, alas! than the human heart…" ~ Charles Baudelaire
FROM THE RAZING OF HERITAGE, or just old, redundant buildings, to the accelerated rates of gentrification and "modernisation", it always feels like Ho Chi Minh City is in the midst of a dizzying makeover. I often joke that it's easy to be nostalgic about the old days, you know, like last Tuesday, in a town that moves so fast. Old Saigon? If we're to believe the hype – promulgated across hoardings that line the streets – she will be no more, other than the untouchable landmarks (Notre Dame, the Opera House, Central Office, etc) and all of the protected pre-'75 villas.
Now, I love evocative aesthetics and a rich, textured backdrop as much as the next Instagrammin' man, but I don't live in any of the buildings I frame in a filtered picture then post for a squirt of dopamine to get me through the day. In that sense, I'm a hypocrite – I constantly portray the characterful buildings and streetscapes, adding to the collective sense of that they're the soul of the city, while dwelling a modern apartment complex that employs engineers, receptionists, cleaning staff, and offers aircon, double glazing, underground parking. Full disclosure: I am already living in Tomorrowland.
But is "old Saigon" disappearing? "Each time I land in [Saigon], I invariably look for what is different because it has undergone tremendous change," writes Annette Kim, whose book Sidewalk City was inspired partly by being unable to point out to friends what was so wonderful about Ho Chi Minh City from a map. "Still, I am usually pleasantly surprised to find how much of the city's charms have remained."
Ho Chi Minh City is often hyped up as a futuristic, vertiginous financial powerhouse – every news feature on the city's rise always seems to have the same angled shot of the glitzy high-rise part of downtown, adding to the buzzy hype and Shanghai-style vibes. And yet the urban network of alleyways still accommodates about 85 percent of city dwellers in inner districts, according to an academic paper (Gilbert-Pham) cited in Sidewalk City. That percentage might be lower now. But if you're seeking to get a sense of old Saigon, all you really need to do is duck down an alleyway or side street in the city's older wards. In that way, perhaps we can shrug and say, the more things change, the more they stay the same.
When the British travel writer Norman Lewis came in 1950, he was underwhelmed by what he saw in the centre of the city (a bubble, he noted, that most European emigres never left) and mocked all the hype spouted by the realtors of the day. "Paris of the East?" He suggested people might as well call Kingston in Jamaica, the Oxford of the West Indies. "[Saigon's] inspiration has been purely commercial. There has been no audacity of architecture, no great harmonious conception of planning. Saigon is a pleasant, colourless, and characterless French provincial town, squeezed onto a strip of delta-land in the South China Sea ..."
Thankfully Lewis didn't do a 'Somerset Maugham' and jump on the next steam boat to Siam after that rather damming dismissal. Instead he "plunged into a side-street" where he ended up in a local ward filled with local street foods; then he began drinking beer, and listening to a form of music we'd now call karaoke. And if he were kicking around District 1 today, we can safely assume Lewis wouldn't be bothered with the skyscrapers that define the city's skyline in 2022 (or going for brunch in the suburbs). Instead, he'd be perambulating down alleyways and side streets, perhaps concluding that the most fundamental elements of the city remain the same. As a relatively young, multicultural place that has hosted foreigners and migrants since its inception, and as the ultimate Vietnamese melting pot, Ho Chi Minh City is in so many ways exactly what it's always been: a barrelling, motley and variegated centre of commerce. 'Old Saigon' is still here, and there, even if its form continues to change, more quickly than ever before, and sometimes more than a human heart can bear. So go to it, if you wish. Savour and celebrate it, and keep breathing life into the old spaces and places you love. And if by chance, you see me down the tavern, well, we can smile at one another and say…
Those were the days, my friend, we thought they'd never end
We'd sing and dance forever and a day
We'd live the life we choose
We'd fight and never lose
Those were the days, oh yes, those were the days.